Branches - Firm 
You've already walked on tree roots, fallen cones, nuts and logs with MUFFIK at your home. Now we have added branches to our family of forest surfaces. 
This surface is used to stimulate the sole of the foot for prevention and rehabilitation of longitudinally or transversely collapsed arches. The lying twigs will train balance and the centre of the body, and their protruding twigs can be used for reflexive foot massages. 
Foot reflexology is an ancient method based on the knowledge that there are many points and areas on the foot that correspond with different organs and parts of the body by way of nerve connections.
By stimulating them we can improve the metabolism, the function of internal organs, remove some spinal blockages and promote recovery. Furthermore, we can improve digestion and eliminate fatigue or insomnia.
Just like a giant jigsaw puzzle. All of our children's orthopaedic play mats have compact non-slip structure, it is made of a hygienic easy to wash and sanitise material.
Recommended Age: 1+
Material: Polyvinyl Chloride - BPA and Phthalates free!
Eco mats: WPC (wood-polymer composite)
Tested according to EU standard EN 71-1:2014 + A1:2018 and EN 71-2:2011 + A1:2014 and EN 71-3:2019-0
Dimension: 
1 mat is 29.79x29.79cm
Wash in warm soapy water, use spray sanitiser, you can hoover mats with nozzle, let dry naturally.
do not exposed to extreme cold/warm temperatures. 
Always supervise while in use.
---
Free shipping on orders over £55
International Shipping: We ship worldwide. If your country isn't listed at checkout, contact us at hello@happyfeetplaymats.co.uk for shipping costs.
FAQ

What age are children's orthopaedic play mats suitable for? 

Our soft sensory play mats can be used as a sensory tool when your little one is ready for tummy time. Your little ones will start to benefiting from the built in orthopaedic features from when they start negotiating their first steps right through to adult hood. You can start to introduce firm sensory play mats from around the age of 3.

How many sensory play mats should I get?

Our pre-made sets are available in 6 or 8 mat options. While most puzzle play mats can be purchased individually, we recommend a minimum of 6 sensory play mats, with 8 or more being ideal. This ensures a balanced mix of Soft and Firm mats, particularly important for children under 3 years (soft only). Having at least 6 mats provides versatility in colors, styles, and sensory options, promoting increased steps taken and enhancing potential health and developmental benefits.

Can I buy additional sensory play mats to fit an existing set?

All our mats are designed like a large puzzle play mat, interlocking seamlessly. Whether you add one sensory mat or ten, this feature allows for endless configurations, ensuring each day's setup is unique. Feel free to mix things up whenever you like!

How should I store my mats?

You should always clean your orthopaedic play mats following the FAQs before storage. When storing, always lay them flat, with the flatter ones at the bottom and any textured ones like Coast, Logs, Hedgehog or Twister on top to prevent deformation.
Shipping

FAST Shipping

We dispatch all orders within 1 working day. This means we aim to deliver within 2 to 3 working days. All deliveries are tracked and the tracking details provided to you for your peace of mind.

FREE Shipping

Thats right we ship for FREE on all orders over £55.

We even have a cool little gadget at the top of the website that shows you how far away from free shipping you are.

If you don't get to £55 don't worry our standard shipping rate is only £5.95 for all other orders.

International Shipping

We ship worldwide. If your country isn't listed at checkout, contact us at hello@happyfeetplaymats.co.uk for shipping costs.

Or you could get in touch through our social media, we'd love to hear form you!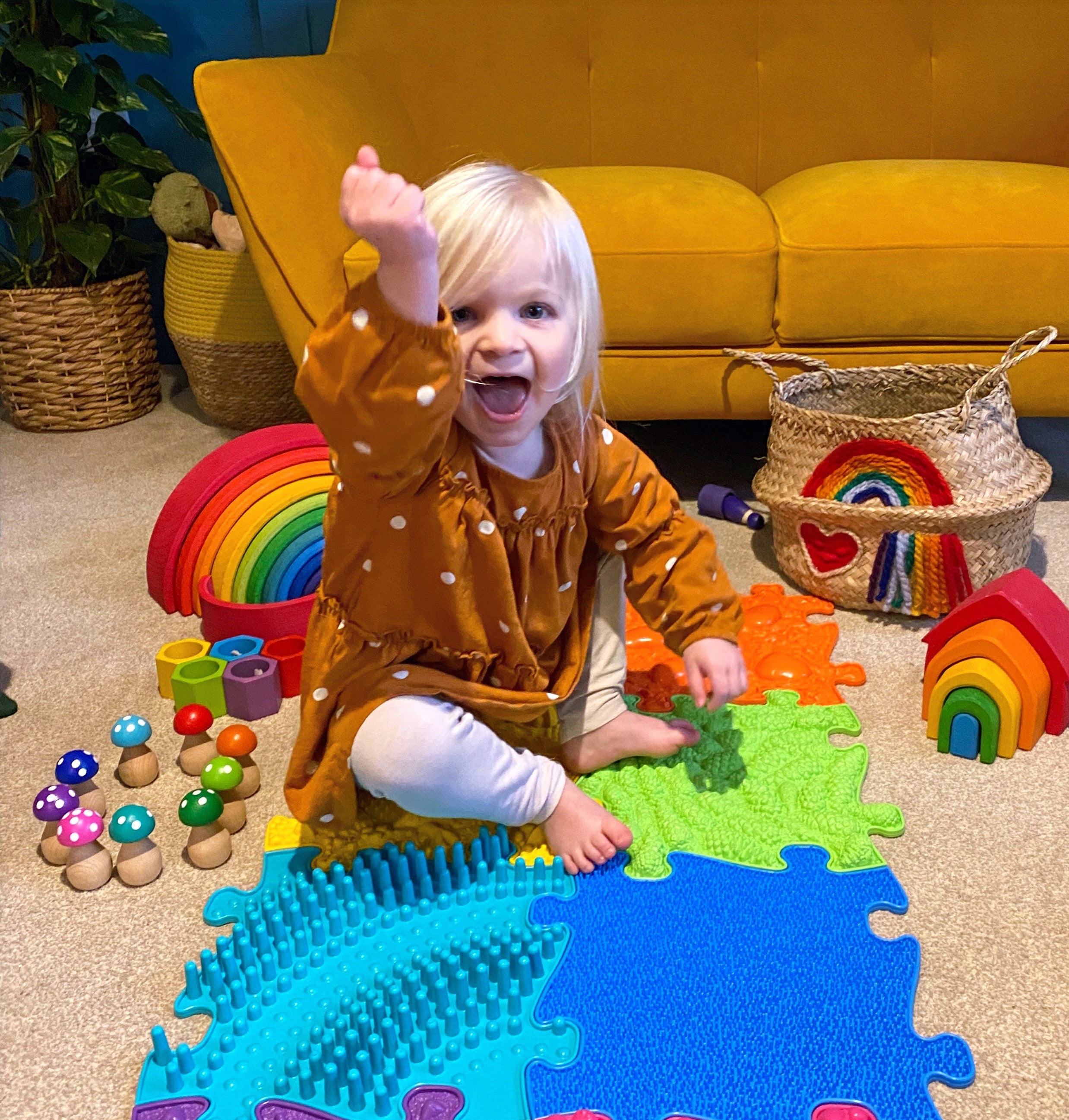 Easy to Clean
Simply dust off, hoover with the nozzle, or rinse using lukewarm water. Job done!
Non-Slip Structure
Our children's orthopedic sensory play mats feature a compact, non-slip structure crafted from a hygienic material that is easy to wash and sanitise.